New gene Willin named after Scottish vet William Dick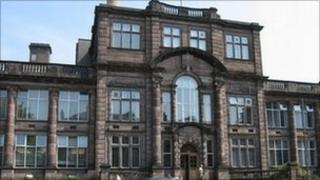 A newly discovered gene sequence that could prove a breakthrough in cancer control has been named after the father of Scottish veterinary medicine.
The new gene, called "Willin" after William Dick, founder of Edinburgh's Royal (Dick) Veterinary School, has been identified by scientists at St Andrews University.
They believe the gene may help control the development of cancers.
The scientists hope it will halt the activity of other cancer causing genes.
The research was led by Dr Frank Gunn-Moore, who originally identified the gene whilst a postdoctoral student at the Dick Vet.
Dr Gunn-Moore said: "During my time at the Dick Vet, between 1998 and 2000, I was studying how nerve cells are insulated when they fire electrical signals.
"It was whilst I was performing this work that I identified a new gene sequence.
"For many years we did not know what Willin did, but subsequently we have now found that this new gene may actually help control the development of cancers by stopping the activity of other cancer causing genes."
'Rare' discovery
Dr Gunn-Moore added: "We have shown that if this gene is switched on then it has the ability to de-activate other genes which are involved in the formation of cancers.
"At present we cannot tell what type of cancer is affected, but our work will lead to a better understanding of Willin's role."
Dr Paul Reynolds, a fellow researcher at the School of Medicine at St Andrews, added: "After the sequencing of the human genome, it is now rare to identify a new gene product."
The research on the gene is published in the online edition of the journal Nature.
William Dick, the son of a farrier, established Edinburgh's Royal (Dick) Veterinary School in 1823 to promote "public instruction in the ensuing season, in the veterinary art and the diseases of livestock".
By the time he died in 1866, he had taught 818 students. Among them were the founders of veterinary schools in Glasgow, Liverpool, Ireland, Canada, the USA and Australia.