DJ Basshunter cleared of Kirkcaldy club sex charges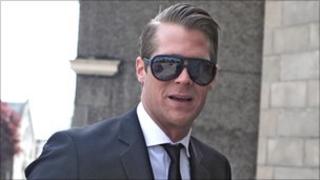 Celebrity DJ Basshunter has been cleared of sexually assaulting two teenage fans after performing at a Scottish nightclub.
The Swedish star, real name Jonas Altberg, was acquitted after a two-day trial at Kirkcaldy Sheriff Court.
He was accused of the attacks on the cousins during a photoshoot after the DJ set at Kitty's nightclub in the Fife town last December.
The sheriff said the witnesses were "neither credible or reliable".
The pair claimed that Mr Altberg, 26, grabbed them by the hair and thrust their heads towards his crotch as they had their photo taken with him in the nightclub's VIP lounge.
Basshunter told the court the girls had "made up and over exaggerated" their story - and said the girls had "colluded" with each other before giving statements to police.
The court heard they contacted a tabloid newspaper before calling the police.
However, Sheriff Maxwell Hendry warned the star that the not guilty verdict did not give him "carte blanche" for his future actions.
One of the women, aged 19, said that as they tried to move away from the Celebrity Big Brother contestant - who had a number one hit with Now You're Gone - he grabbed her and pulled her dress up.
She said that once it was up round her waist he pulled up her underwear, bent her forward and slapped her on the bottom.
But Mr Altberg - who one witness described as "wild and outrageous" on the night of the alleged attack - vehemently denied the claims - telling police: "Jesus no - it didn't happen."
The trial had earlier heard evidence from the two women, who claimed Mr Altberg - who downed beer and Jaegermeister during the night - had attacked them.
The other woman, also 19, told the court she was grabbed by Mr Altberg and pushed towards his groin.
She said he then lifted her dress, pulled the back of her underwear and slapped her buttocks with force.
Inconsistent evidence
But Mr Altberg told police days later that he had "no idea" what the allegation was against him.
He told officers: "They [women] come up to me and cuddled and had fun. If I have acted inappropriately in any way I probably didn't realise it."
He told Det Con Samantha Mann that he did sometimes "make comments" to girls but denied telling one of the girls that she could give him oral sex.
Giving evidence in his own defence he added: "This has never happened in 1,000 shows.
"I do this five days a week and meet 300,000 people every year and there has never been a complaint about my behaviour.
"I can't remember these girls or really anything from that night because it was a perfect night."
Mr Altberg, from Halmstad in Sweden, pleaded not guilty to two charges of sexual assault alleged to have occurred on 10 December 2010 at the club in Kirkcaldy's Hunter Street.
Sheriff Maxwell Hendry said: "I consider in this case the witnesses were neither credible nor reliable.
"Their evidence was riddled with inconsistencies and improbabilities.
"I consider they used their time before giving statements to police to collude with each other.
"They posed for photographs, smiled after the photographs, ignored good advice given to them to contact police and instead contacted a newspaper before giving statements."
'Tactile and flirty'
The sheriff added: "This is not a court of morality and your behaviour in the future is entirely a matter for you.
"I would not want you to think that this gives you carte blanche in the future."
Earlier, the court heard evidence about the DJ's behaviour with female fans at the club.
Club steward Alan Lindsay, 34, told the court: "He [Mr Altberg] was tactile and flirty with them.
"He was full of nonsense, having a carry-on with everyone who was going up to see him.
"He was pulling girls close, posing with them in various positions. Women had their hands on his crotch, at his request as well, for photos."
Mr Lindsay said there were hundreds of photos taken that night showing the accused with girls, most of them "intimate, up close, with their arms and legs wrapped around" him.
Cross examined by Ian Duguid, QC, defending, Mr Lindsay said the behaviour of the female clientele at the club "rivalled if not surpassed" that of Mr Altberg.
He said he saw the DJ sign "various body parts - underwear, chests, breasts, backsides, everywhere".