Edinburgh Film Festival looks for 'reboot'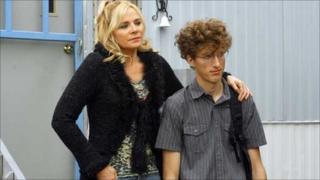 The revamped Edinburgh International Film Festival is beginning its 11-day run in the Scottish capital.
At 65, it is the oldest continually-running film festival in the world but it has had a difficult year.
Since last June the festival has lost its artistic director and a large proportion of its funding.
New director James Mullighan wants to rebrand the festival as "the brain" of the UK film industry, dispensing with red carpets, photocalls and awards.
The film festival runs from 15 to 26 June.
It will feature more than 60 international, European and UK premieres.
Highlights include the European premiere of David Mackenzie's Glasgow-set sci-fi thriller Perfect Sense, starring Ewan McGregor and Eva Green.
The film, to be shown on Saturday, has been moved from The Cameo to the 1,500-seater Edinburgh Festival Theatre venue due to a sell-out of advance tickets.
Another highlight will be Keith Bearden's new film Meet Monica Velour, starring Sex and the City actress Kim Cattrall, who is expected to appear at the screening.
Actor Bill Nighy will also be in the city, for the Bafta Scotland interview.
He will be visiting with Oscar-nominated screenwriter Sir David Hare for the premiere of political thriller Page Eight.
Rock stars Kings of Leon will be premiering their new documentary, Talihina Sky, at the festival on 25 June.
The band said the film charts their rise to success from a strict Pentecostal upbringing in Oklahoma and Tennessee to their transformation into one of the biggest rock bands in the world.
The Edinburgh film festival was first held in 1947, the same year as the Edinburgh International Festival.
That year the film festival showed 12 documentaries in response to the arts festival's refusal to show films.
'Controversial and provocative'
At the launch of this year's programme, Mr Mullighan said he was trying to recapture the edge of its youth.
"This festival was controversial and provocative. Not any more," he said.
He said the festival would return to traditional venues such as the Cameo and the Filmhouse and there would be more discussions and debates.
The festival's final day will include a screening of a critically-acclaimed Afghanistan war documentary, Hell and Back Again, to an audience of British soldiers and their families.
The documentary strand was being curated in collaboration with the Sheffield international documentary festival.
It also includes a portrait of chess legend Bobby Fischer, a biographical film of Bob Marley and a "powerful" study of climate change, Burning Ice, featuring Marcus Brigstocke, Jarvis Cocker and Martha Wainwright.