Celebration for Edinburgh's One O'Clock Gun anniversary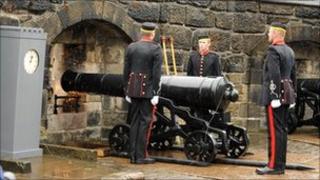 A re-enactment of the 1861 gun firing at Edinburgh Castle has taken place to mark the 150th anniversary of the city's One O'Clock Gun.
The celebrations began at noon with the firing of the present day gun following at 1300 BST.
The gun is fired daily, apart from on Sundays, from the castle.
It was first fired from the historic setting in the capital on 7 June 1861, and has continued ever since, except during the two world wars.
George Grubb, Edinburgh's Lord Provost, said: "Edinburgh's One O'Clock Gun is famous all over the world and this 150th anniversary is a very special milestone for the city.
"People have been setting their clocks, and even ships' clocks, by the gun's firing for generations."
Shipping signal
The gun is timed to coincide with the time-ball, a large white ball which is raised above the Nelson Monument on Calton Hill and drops at exactly One O'Clock.
Together, the One O'Clock Gun and the time-ball provide a time signal for shipping in the Firth of Forth and the Port of Leith.
The gun was originally a 64-pounder cannon mounted on the Half-Moon Battery.
It is now a L118 Light Gun, fired manually by the district gunner, Sgt Jamie Shannon, from the Mills Mount Battery.
Ruth Parsons, chief executive of Historic Scotland, said: "It is wonderful to celebrate the 150th anniversary of the One O'Clock Gun, which is not only an iconic Edinburgh institution, but is a global attraction, celebrating Edinburgh's maritime history and heritage."