Hollywood actor John Malkovich at Edinburgh Fringe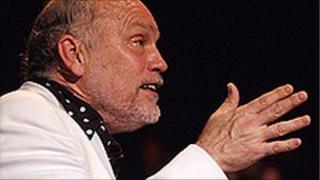 Hollywood film star John Malkovich, dance group Flawless and comedian Al Murray are to feature in this year's Edinburgh Festival Fringe.
The line-up includes 2,542 shows staged by about 21,000 performers at the world's largest arts festival.
Cabaret has been added to the list of comedy, theatre, dance and music.
Kath Mainland, Festival Fringe Society chief executive, said: "The 2011 Edinburgh Festival Fringe programme is bigger than ever."
She said: "What makes it exciting every year, but particularly this year, is the combination of all these wonderful, creative and talented people who choose to bring their work here.
"The Fringe is whatever those people want it to be, and so many of them are still seduced by the idea of it and want to bring their work here from all round the world.
"The Edinburgh Festival Fringe is still the first choice for performers, producers, venues, artists and creators to come and tell their story."
Terror attacks,
Malkovich will direct actor Julian Sands in a play celebrating the work of Harold Pinter.
A host of top names in comedy will also return during the month-long festival, with stand-up shows from Murray, Sarah Millican and Ed Byrne.
Street dance group Flawless, who reached the final of Britain's Got Talent in 2009, are to return this year and a show from duo Paul Daniels and Debbie McGee.
A number of companies are bringing shows about the 11 September terror attacks, including a musical, a dance movement and a one-man show.
Overall, the Fringe features 41,689 performances of 2,542 shows at 258 venues from 5-29 August, with 1,319 being world premieres.
Comedy makes up 37% of the 2011 programme, theatre accounts for 30% and music forms 14% of the bill.
Musicals, opera, children's shows, dance, physical theatre, events, exhibitions and the newly-introduced cabaret completes the programme.
Scottish Culture Secretary Fiona Hyslop said: "Every year the Fringe gets bigger and better and this year's programme promises to delight and excite audiences from home and abroad.
"Offering a huge variety of work from an international band of talented performers, I'm sure there will be something for everyone to enjoy.
"Edinburgh's festivals contribute hugely to the Scottish economy, generating over a quarter of a billion pounds' worth of additional revenue for Scotland last year."