Woolly jumper tree art to start Leith Festival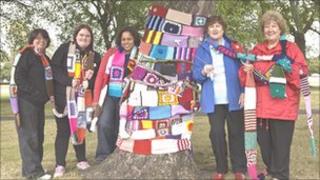 Trees have been wrapped in woolly jumpers as part of a guerrilla arts project to mark the start of the Leith Festival.
More than 6,000 knitted squares have been wrapped around 20 trees in Leith Links to open the festival.
The community arts festival has at least 150 events across 50 venues, all within a mile radius of the foot of Leith Walk.
The festival runs until Sunday 19 June with a gala day on Saturday 11 June.
Festival organisers appealed to knitting communities across the country and overseas through a Facebook campaign requesting 6 x 6ins knitted or crocheted squares.
Within a week the appeal had more than 1,000 responses.
'Captures imagination'
Guerrilla art or street art is used to describe anonymous art pieces which are put in public places, usually without gaining any permission.
Adele Conn, Leith Festival manager, said: "I'm delighted with the success of our guerrilla arts project, we've had a phenomenal response rate from Leith and overseas.
"Despite the difficulties in requiring funding in the current economic climate, we thought it was important to get this intergeneration project up and running.
"Following a Facebook appeal for advice and support, the project quickly grew organically and to date we've received knitted squares from across Edinburgh, South Africa, New York, Morocco and Sweden.
"It's amazing how communities can pull together when you provide them with a idea that captures the imagination, and allows them to become part of a massive project in which they all can't wait to see the outcome."
The Leith Festival gala day, which attracted up to 12,000 last year, will take place on Leith Links on Saturday, with a parade, pony rides, bouncy castle, fairground rides and a Tug o' War contest.