Princes Street tram works delayed until after festival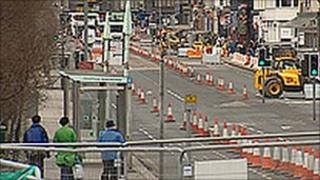 The closure of Princes Street in Edinburgh to allow more tram works to take place has been delayed until September, it has been announced.
Edinburgh Council took the decision to reschedule repairs to the road surface after local businesses expressed concerns.
The work had been due to begin in July, but will now take place after the summer festival season.
A contractual dispute has already put the scheme behind schedule.
The council has insisted that the work is necessary on safety grounds.
The road surface alongside the tram lines has already broken up and it is to be replaced with black concrete.
The future of the whole tram scheme could be decided later this month, when councillors meet to consider a report which will reveal the cost of cancelling the entire project.
Festival fireworks
More than 80% of the £545m budget has already been spent.
Dave Anderson, director of city development said: "My team and I have spent a great deal of time listening to comments regarding the planned work programme for Princes Street and I understand the concerns regarding starting prior to full certainty on final costs, funding and programme.
"It is with this in mind, and having considered how best to implement some of the mitigation ideas we received, we have taken the decision to postpone these works until after the summer festivals, in September."
The plan will now be to implement the traffic diversions in the weekend prior to work starting on 5 September.
This means that Princes Street will have more public space available for spectators for the Edinburgh International Festival Fireworks, the finale of the Festival season on Sunday 4 September.