New lead from Elizabeth 'Betty' Brown Crimewatch appeal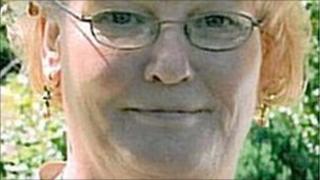 Police investigating the mysterious death of an Edinburgh woman have received a new lead after the case appeared on the BBC's Crimewatch.
Elizabeth "Betty" Brown, 56, had last been seen alive on 28 May last year on a bus on Nicholson Street in Edinburgh.
Her body was discovered in woods near Longtown, Cumbria, on 18 January.
After the programme aired on Tuesday, police received a call from a witness who thinks they saw Mrs Brown talking to a man on a bus to Carlisle.
Mrs Brown, from Gorgie Road, Edinburgh, was last seen carrying two black Aldi bags while travelling on the number 3 bus in the Scottish capital.
Det Ch Insp Jeff Ashton, of Cumbria Police, said: "We have made a number of appeals for information locally in Cumbria and Edinburgh, but featuring the investigation on BBC Crimewatch gave us the opportunity to reach millions of people.
"This paid off, and almost straight away we received information we hope will move the investigation forward.
"We received 13 calls on Tuesday night, including one from a witness travelling on the X95 bus, who thinks they saw Betty talking to a man between Edinburgh and Carlisle.
"We are now working to identify this man as we hope Betty may have talked to him about her plans, who she was meeting and where she was going."