Markinch man injured by falling tree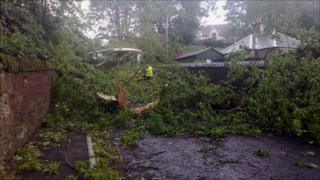 A Fife man has been treated in hospital for head injuries after being hit by a falling tree while trying to help school children whose bus was halted by a tree blocking the road.
The man, who lived nearby, came to the pupils' aid in Markinch after a tree landed in front of the bus.
He was hit by a second falling tree which also struck the bus, smashing its windows. No children were injured.
The road was one of eight closed in Fife because of falling trees.
A further two roads in the area have been closed due to buildings being left in a dangerous state after sustaining wind damage.
Lothian and Borders Police said trees and temporary traffic lights had been brought down by high winds in Edinburgh.
The runway at Edinburgh Airport was temporarily closed on Monday after part of the terminal's roof flew off at 1545 BST.
A fire engine was used to protect a nearby plane from being damaged by the flying cladding, which came off the south east pier of the airport terminal.
A total of 46 arrivals and 42 departures were cancelled on Monday at the airport due to the strong winds, which reached 80mph.
Elsewhere, police officers were called after a tree landed on top of a house in Westgate, Mid Calder, West Lothian, at 1555 BST on Monday.
Edinburgh's Princes Street Gardens was closed on Monday for safety reasons, and had only partially reopened on Tuesday.
The West Gardens has reopened, although Castle Hill remains shut.
The East Gardens are still closed due to the danger posed by damaged branches.
An Edinburgh City Council spokeswoman said: "Part of the gardens remain closed. Safety is our top priority and we are currently assessing the damage."
JCBs have also been used to remove huge trees that have fallen, blocking roads in Edinburgh.
West Lothian Council said it had received 200 calls relating to the high winds, with most being about fallen trees.
A Midlothian Council spokesman said a tree was blown onto the roof of Cockpen Nursery in Bonnyrigg. No one was injured.
The council-owned building, which is used by Bright Sparks, is likely to remain closed for the foreseeable future and Bright Sparks is trying to find alternative accommodation.
North Berwick Sports Centre has been closed following roof damage and 13 fallen trees blocking roads have now been cleared in East Lothian.
East Linton nursery will be closed for the rest of the week after its gable end collapsed in the wind.