Edinburgh festivals boost Scotland's economy by £261m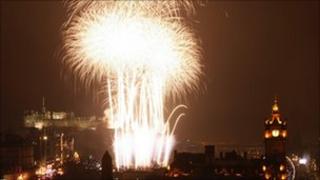 A new report into the benefits of Edinburgh's year-round festivals suggests they are now worth more than £250m to the Scottish economy.
The study said festival tourism - at £261m in 2010 - was worth more than golf tourism to Scotland.
The report found Edinburgh festivals were worth five times as much as single events such as Glastonbury.
The Edinburgh Festivals Impact Study included 15,000 survey responses over a 12 month period.
The study is the largest programme of research undertaken into Edinburgh's 12 major Festivals.
It found the festivals, which include a range of celebrations from the Hogmanay events to the Science Festival in March and the Edinburgh Fringe and Military Tattoo in August, are attended by four million people each year.
Most of the non-ticket visitor expenditure goes to hotels and accommmodation, food and drink establishments and retailers.
Visible assets
Lady Susan Rice, the chairwoman of the Festivals Forum, which commissioned the report, said: "Edinburgh's Festivals are a cultural phenomenon, celebrated globally and treasured locally.
"They are one of Scotland's most visible assets and, thanks to this study, we now have a clearer understanding of the breadth of their benefits reach across Edinburgh and Scotland.
"In a competitive tourism market and shifting economic climate, this study will be essential in helping us identify the best ways to ensure the festivals flourish for generations to come."
The study said that golf tourism brought in £190m to Scotland last year.
Sense of price
The report is also the first to consider the social benefits of festivals.
It said 93% of parents surveyed thought attending festival events increased their children's imagination while 89% thought the festivals increased their sense of pride in the city.
According to the study, 93% thought the festivals made their city stand out as special and most thought the fact the festivals tumbled back to back all summer made their city unique.
Of those surveyed, 77% said the festivals had enabled them to discover new talent and genres, and nearly two-thirds said the festivals encouraged them to take risks to see less well-known performances, events or films.
Kath Mainland, chairwoman of Festivals Edinburgh, said: "We believe passionately that no city in the world can match the scale, quality and impact of Edinburgh's festivals and we proudly welcome the findings of this report.
"It underlines how essential the festivals are to Edinburgh and Scotland, but, most importantly, how essential it is for the festivals and their supporters and partners to continue working together to maintain this much-envied position."
The report is also the first since the Thundering Hooves report, which warned Edinburgh's festivals it had to beware of the newer events thundering at its heels.