Edinburgh Film Festival goes for "the brain"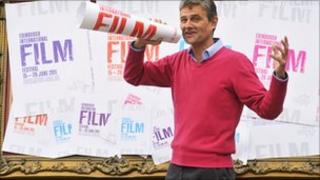 The list of new sponsors gives some indication of what is to come.
Easyjet and smart cars, not private jets and limos.
The Edinburgh International Film Festival is dispensing with the frivolity of the red carpet, and in its 65th year, trying to recapture the edge of its youth.
"This festival was controversial and provocative. Not any more," says director James Mullighan at the launch of its programme.
"We have a chance to change that and that's what we intend to do."
As well as dispensing with red carpet photocalls, there will not be a closing night film or use of the Fountainbridge cinema multiplex.
Instead they will use traditional venues such as the Cameo and the Filmhouse, as well as new spaces like St Andrew Square, which will stage open air screenings.
There will be more discussions and more debates, apparently, to rebrand the festival as "the brain" of the UK film industry.
Movie moments
Which is all well and good. Most people would agree with the notion of spending hard-won resources on the films, rather than fripperies for film stars but the programme suggests a festival working to a very tight budget indeed.
Among the most anticipated films, the opening one - The Guard - which stars Brendan Gleason and Don Cheadle, and like last year, will be screened in the Edinburgh Festival Theatre.
Philip Seymour Hoffman's directorial debut Jack Goes Boating will be shown, as will David Hare's first directorial offering in 20 years, the spy drama Page Eight.
David Mackenzie's sci-fi drama Perfect Sense, set in Glasgow and starring Ewan McGregor is also much anticipated.
Then there are the much-discussed curator strands, with names such as Mike Skinner and Gus Van Sant bringing their favourite films to the festival.
(Van Sant has chosen a retrospective of the work of Derek Jarman while Skinner will stage a one-off performance based on his favourite movie moments.)
All give a sense of a festival in the hands of people who really care about film, even if it is many hands.
Documentaries make up a substantial part of the programme - including new films about Bob Marley and Bobby Fischer, not to mention a whole strand devoted to war reporting, overseen by Martin Bell.
The big problem for the festival, is that over 65 years, the whole landscape has changed.
It is no longer the only kid on the block.
There are more than 2,000 film festivals worldwide, and even here in Scotland, newer, younger rivals creeping up.
There are some obvious gaps.
Lynne Ramsay, whose previous films Morvern Callar and Ratcatcher, both had high profile screenings in Edinburgh is currently the talk of Cannes with her new film We Need To Talk About Kevin but there is no sign of the film in the programme, despite the fact its producer and lead actor is festival patron Tilda Swinton.
The festival is tight-lipped about the omission but traditionally continue adding to the programme right up to the last minute, so it may yet appear.
Whatever happens, the 65th Edinburgh International Film Festival is going to be a very different event.
We will just have to see whether audiences and the wider film industry embrace its new look.
The Edinburgh International Film Festival will run from 15 to 26 June.