Mary, Queen of Scots, prayer book returns to Scotland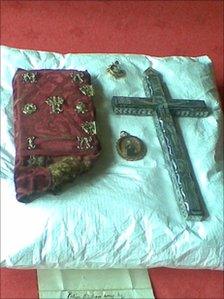 A prayer book belonging to Mary, Queen of Scots, has been brought back to Scotland for what is thought to be the first time in more than 400 years.
The Book of Hours has gone on display for a day at Loretto School in Musselburgh, East Lothian.
It has been lent to the school by a college in Lancashire and will be reunited with an ornate crucifix on loan from the Abbotsford Trust.
It is thought Mary carried both items to her execution in 1587.
The Book of Hours, seen in several portraits of the Queen, is a velvet-covered prayer book decorated with the royal crest.
The book and crucifix will form the centre-piece of a display of history pupils' course work on the life and times of Mary Stuart.
The prayer book is thought to have been kept in England since the Queen was beheaded at Fotheringay Castle in 1587.
Historians hope this one-day loan to Loretto School could lead to further, longer exhibitions so the wider Scottish public get the chance to see the historic artefact.
Related Internet Links
The BBC is not responsible for the content of external sites.