Edinburgh Film Festival line-up announced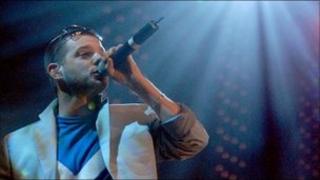 Organisers of the Edinburgh International Film Festival have promised an "innovative" programme for its 65th anniversary year.
Outdoor screenings and a bike-driven mobile cinema are among the events planned to attract new audiences.
'Cineconcerts' with live music, 24-hour debates and video game performances also from part of the programme.
Mike Skinner of rap outfit The Streets is among artists who will screen their favourite films.
The film festival, which runs from 15 to 26 June, has had a difficult year.
Its previous director, Hannah McGill, quit in August and the event has lost major funding awards and sponsors.
The organisers decided on a new approach which would include fewer new features, no red-carpet events and no awards.
James Mullighan was appointed as the festival's producer, promising an "experimental" EIFF.
His festival line-up will feature more than 60 international, European and UK premieres.
Highlights include Keith Bearden's new film Meet Monica Velour, starring Sex and the City actress Kim Cattrall, and Steven Silver's true life combat drama The Bang Bang Club, featuring Ryan Phillipe.
A film directed by Oscar-nominated screenwriter Sir David Hare will have its world premiere at the festival.
Political thriller Page Eight, stars Bill Nighy and Rachel Weisz.
Another highlight is the UK premiere of David Mackenzie's Glasgow-set sci-fi thriller Perfect Sense, starring Ewan McGregor and Eva Green.
One of the eight UK documentary premieres is Peter Gilbert's study of climate change Burning Ice, which features musicians Ryuichi Sakamoto, Jarvis Cocker, KT Tunstall and Martha Wainwright, and comedian Marcus Brigstocke.
The Streets' Mike Skinner will stage an experimental performance event based on his favourite movie moments.
The musician announced earlier this year that his fifth album, released in February, was his last.
Guest curators such as fashion designer Bella Freud and photographer Rankin have also been invited to think up screenings and events.
Outdoor screenings are planned at St Andrew Square in the city while a bike-driven mobile cinema sponsored by Cutty Sark will also pop up across the capital.
Festival director James Mullighan said: "In a short space of time we have developed some genuinely innovative content for the 2011 programme, building on the strong heritage and reputation of Edinburgh as one of the original pioneers of the global film festival.
"In our 65th year, rather than ease into senior citizenship, the EIFF team has instead taken the bold and essential step of looking to the future and reinventing the festival for modern audiences.
"It has been an extremely exciting and sometimes even daunting process, and one that has sparked much debate from organisers, advisers and fans alike."
He added: "It has been a privilege to work with the fantastic Edinburgh team and our inspiring collaborators throughout, and we hope you enjoy the resulting programme that is on offer this year, which we are sure will be an EIFF to remember."