Suspicious package sent to Scottish club Cowdenbeath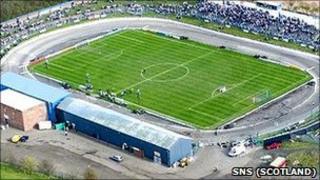 Police were called to Scottish club Cowdenbeath on Monday after a suspicious package was delivered.
Officers went to Cowdenbeath's Central Park ground but were later stood down.
Police said the package had been addressed to club chairman Donald Findlay QC - one of Scotland's top lawyers and a former vice-chairman of Rangers.
A spokesman for Fife Constabulary later confirmed that the package contained a knife.
The force said the item had been designed to alarm Mr Findlay and confirmed a police presence had been required.
The club said it would not be commenting at this time.
Cowdenbeath FC were recently relegated to the Scottish Football League Second Division.