Scottish SPCA in baby bird deluge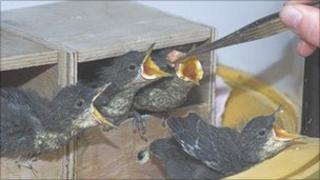 An animal welfare charity is urging people to leave young birds alone after it was inundated with more than 100 baby birds.
The Scottish SPCA said it was concerned after healthy baby birds were handed in by worried passers-by.
The charity said it was receiving the chicks, including ducklings and fledglings, every day.
Officers said they wanted to warn people they could be doing more harm than good when picking up a baby bird.
Colin Seddon, Scottish SPCA wildlife rescue centre manager in Fife, said: "It is understandable for people to be concerned when they come across a young bird on the ground that appears clumsy and unable to fly.
"However, this is a vital part of the learning to fly process and the parents are very likely to be nearby, watching their young making their first efforts to take to the skies.
"We would ask anyone who has concerns to try to monitor the fledglings from a distance to see if the parents appear.
"If it does seem that the fledglings have been abandoned or orphaned, they should call our animal helpline for advice."