Edinburgh Zoo manager cleared of wrongdoing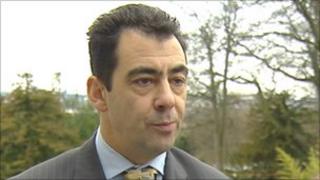 One of two senior managers suspended at Edinburgh Zoo has been cleared of wrongdoing following an internal investigation.
The Royal Zoological Society, which runs the zoo, said there was "no disciplinary case to answer" against chief operating officer Gary Wilson.
It found he had been subjected to "a deeply unpleasant and malicious smear campaign by person or persons unknown".
An investigation into a second senior manager is continuing.
Edinburgh Zoo is currently being probed by the Office of the Scottish Charity Regulator (OSCR) following the suspensions.
The inquiry was launched after it was revealed two giant pandas were due to arrive in Edinburgh in July.
Mr Wilson, who was suspended in March, is now in discussions to return to work by the end of the month.
In a statement, Royal Zoological Society of Scotland executive chairman Donald Emslie said a panel had concluded that there was no disciplinary case to answer after an "extensive and thorough" investigation into a series of anonymous allegations made against Mr Wilson.
He added: "This has been an extremely difficult time for all concerned, but especially Gary, his wife and his young family.
"Gary has been the subject of a deeply unpleasant and malicious smear campaign by person or persons unknown who have chosen a despicable method by which to pursue their own personal agenda to the detriment of the society, its staff, its members and Gary.
"Gary will resume his position with the society shortly as director of business operations.
"I would also like to stress that Gary has not been demoted - his position as interim chief operating officer was always intended to be temporary until the interim chief executive was recruited."
'Right conclusion'
Mr Emslie added: "The RZSS believes the right conclusion has been reached and we will now be discussing our findings with OSCR. We openly welcome any further investigation on their part."
Iain Valentine, who was instrumental in the zoo's efforts to bring the pandas to Scotland, was also suspended last month amid investigations into what officials described as matters of a very serious nature.
The society said inquiries into Mr Valentine had not yet concluded, but it would reveal the outcome "in due course".
It is understood the zoo's director of development, Anthony McReady, has left the organisation.
Mr Valentine and Mr McReady had been helping to run the zoo while a separate inquiry continued into allegations against Mr Wilson.
The society, which is to hold an extraordinary general meeting on Thursday, said it was looking forward to putting recent events behind it.
The zoo has previously moved to dismiss fears that the deal to bring the pandas to Edinburgh could be affected by the suspension of senior managers.
Pandas Tian Tian and Yang Guang, who were both born in 2003, are being brought to Edinburgh under a historic agreement with China.
They will be the first giant pandas to live in the UK for 17 years.