Princes Street closes to buses for Edinburgh tram works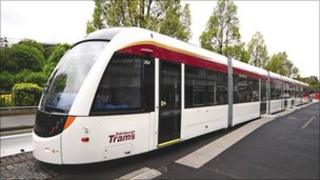 Edinburgh City Council has announced it is to close Princes Street from July until next spring to allow works on the tram line to be repaired.
But the council said it could not guarantee that trams would run along the Scottish capital's most famous street in the project's first phase.
The council said work had resumed in the areas around the tram depot at Gogar and at Haymarket.
It follows the completion of mediation over the controversial project.
The tram company Tie and the multinational consortium building the £545m line, Bilfinger Berger and Siemens (BBS), have been locked in a bitter dispute as costs rocketed and delays mounted.
The council's chief executive said it was still not known how much the project would finally cost, where it would run and when it would start to operate.
Moving forward
Officials said Princes Street, which is already closed to cars, would shut to buses from 3 July.
It will be reopened on Sunday 4 September for the fireworks display marking the end of the Edinburgh International Festival before closing again.
The street will also be opened over the Christmas and New Year Festive period between 26 November this year and 6 January 2012.
The remedial works are planned to end by April next year.
Edinburgh City Council held a briefing on tram works providing information on some of the outcomes of the mediation process ahead of reporting to a special meeting on Monday 16 May.
At the briefing, officials from the contractor and Edinburgh City Council leader Jenny Dawe apologised to the people of Edinburgh for the disruption.
The council said BBS had agreed that it would carry out a programme of remedial works to fully repair the road surface on Princes Street.
It said the contractors would be paying for the remedial work and not the taxpayer.
Other works on Princes Street will also be undertaken including erecting street lighting and remaining overhead line equipment poles and work around the tram stop.
Ms Dawe said it had been a "difficult" period but the tram project was now "moving forward".
She said: "We had hoped to avoid the scenario of a further traffic diversion from Princes Street but having listened to the advice from council officers and the infrastructure contractor I understand why this is necessary.
"We will work closely with the city's business community to ensure any impact is managed effectively before the diversion is put in place and during the period of works."
Vic Emery, chair of Tie, added: "It was vital that the momentum of the project was restored.
"All parties involved are in agreement that, through the mediation process, good progress has been made in identifying the key issues that lay at the heart of the dispute, and a measure of goodwill has been re-established."