Dozens of schools compete at youth games in Edinburgh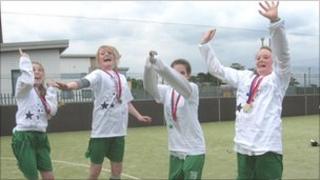 More than 1,600 school pupils from across Edinburgh are competing in the city's biggest youth games event.
Children from 42 schools in the capital have gathered at seven venues in the city for the 12th annual Edinburgh Airport Youth Games.
The event's opening ceremony kicked off at 1000 BST with the sports competition beginning at 1030 BST.
The sports events include athletics, football, golf, gymnastics and swimming.
There is also new activities of dance and climbing.
Edinburgh Airport is sponsoring the Youth Games for the 12th year.
John Comiskey, Edinburgh Leisure's chief executive, said: "The main aim of the youth games is to encourage sporting participation amongst young people of which some may have less of an opportunity to take part in physical activity than others."