Edinburgh tram mediation talks outcome to be revealed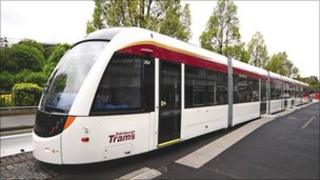 The outcome of mediation talks into a bitter contractual dispute over the Edinburgh trams project is to be revealed within the next week.
A meeting is to be held on Monday at the City Chambers to brief councillors on the latest issues involving Tie and contractors Bilfinger Berger.
The contractual dispute has pushed the £545m project over budget and behind schedule.
It follows mediation talks in Glasgow in March.
It is hoped the route will be finished by the end of 2013.
Steve Cardownie, Edinburgh City Council's deputy leader, said: "We are going to be updated on the current tram situation.
"People have been speculating that the project has gone too far now and that it would cost too much to cancel, so we will have to see what all the facts and figures are before we can make any decisions."
A Transport Scotland spokesman said: "The Scottish government's position on Edinburgh trams is clear.
"We opposed the project, but in June 2007 the Scottish Parliament voted that we provide funding to a maximum of £500m, a figure that ministers will not increase.
"The project is and always has been the responsibility of Edinburgh City Council."