World's 'smelliest' plant set to flower in Edinburgh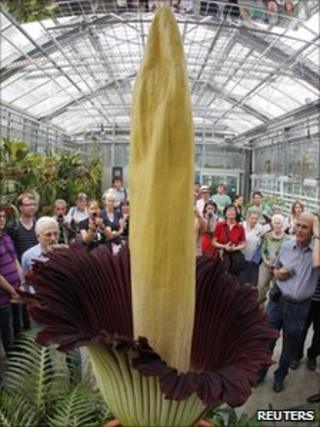 The world's smelliest flower is set to bloom for the first time in Scotland.
The giant Amorphophallus titanum, or Titan Arum as named by Sir David Attenborough, rarely flowers in the wild, let alone in captivity.
But staff at the Royal Botanic Garden in Edinburgh have been carefully looking after the giant plant and it is set to flower in a matter of weeks.
It is also known as the "corpse flower" because it gives off a stench of rotting flesh to attract insects.
The plant is already a world record-breaker with the corm of the plant, before it started to bud, tipping the scales at a massive 153kgs.
This beat the previous world record of 117kgs held by Bonn Botanic Gardens in Germany.
Now the bud is around 8cm tall and staff are hoping for another record when it flowers, as expected, in the next 28 to 46 days.
Steve Scott, a senior horticulturalist at Royal Botanic Garden said: "The world record is just over 10ft (3m) tall and we are hoping to break that."
Mr Scott said the garden had had the plant since 2003.
He said: "We got it about the size of an orange and it has continually grown year in and year out since then."
Staff at the gardens are borrowing a thermal imaging camera from Lothian and Borders Fire and Rescue Service so that they can see the activity of the plant at night.
The plant, which is indigenous to Sumatra's rainforests in Indonesia, is currently kept in the greenhouse at the botanic gardens at a temperature of 20C to 25C.
When the plant heats up, the temperature will rise by about another 10C.
Visitors to the gardens will have to endure a very powerful odour, according to Mr Scott.
He added: "If you put the plant at the west end of Princes Street and you were at the Mound, you would be able to smell it - it is that strong."
Worldwide, there are thought to have been fewer than 140 recorded blooms from artificial cultivation.
Last month, an estimated 25,000 people flocked to the northern Swiss city of Basel to see one bloom for the first time.
Mr Scott said he expected at least as much interest in Edinburgh when the time comes.
He added: "This is the first time it has flowered here and it is potentially a world record."
Those interested in seeing the plant develop over the next few weeks will be able to follow its progress via live feed on Royal Botanic Garden's website from Tuesday.