Scottish election: Tories lose out in Holyrood poll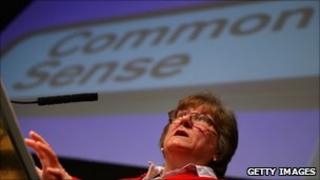 The Scottish Conservatives have emerged from the Scottish Parliament election with a total of 15 MSPs, but has lost one of the party's key talents.
The party's finance spokesman, Derek Brownlee, failed to get re-elected, while former leader David McLetchie lost Edinburgh Pentlands to the SNP.
Mr McLetchie was elected as a list MSP in Lothian.
The party had a notional seat total of 20, had the 2007 election been fought on the new Holyrood boundaries.
Tory leader Annabel Goldie said the elections had been fought against the backdrop of an "enormous swing" to the SNP, which won an overall majority of seats in the Scottish Parliament.
She said: "Voters have deserted the Lib Dems in droves - these were voters who were never going to come to the Conservatives. Their gripe was with their party being in coalition.
"Most tellingly, they chose not to turn to Labour.
"As a consequence, the SNP were major beneficiaries of these disillusioned former Lib Dem voters."
Miss Goldie, whose party managed to get Tory policies implemented by the SNP minority government in the last parliament in return for budget votes, said the next parliament and government must make decisions based on the long term interests of Scotland.
She said: "More than ever, Scotland needs a party which will stand up to the excesses of nationalism and bring reality to Scottish politics. That will be the Scottish Conservatives' task in the months and years to come."
Elsewhere, Tory Alex Fergusson became the first outgoing presiding officer of the Scottish Parliament to make a return to Holyrood, after he won the new seat of Galloway and West Dumfries, with an 862-vote majority over the SNP.