Edinburgh second in TripAdvisor UK tourism poll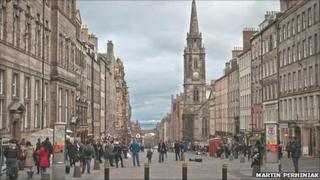 Edinburgh has come second in a poll to find the UK's most popular tourism destination.
It follows London, which took the top position in the poll by travel company TripAdvisor. Inverness came eighth followed by St Andrews.
Glasgow was 11th and Aberdeen was 20th. Edinburgh was placed ninth in the European top 10 places to visit.
Scotland failed to feature in the list of top world destinations, which was topped by Cape Town.
Mike Cantlay, chairman of VisitScotland, said: "For Edinburgh to be voted one of the most popular destinations in Europe is a fantastic accolade for Scotland's capital, although it should come as no surprise to those who have experienced the city's splendour first hand.
"The fact that Inverness, St Andrews, Glasgow, Aberdeen and Oban also feature in TripAdvisor's Top 25 UK destinations shows that Scotland continues to capture the imagination of visitors from around the world."