Jack Henderson hits £10,000 for Sick Kids in Edinburgh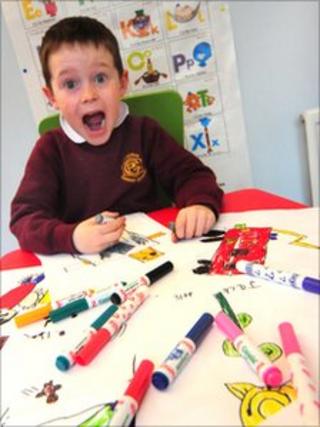 A six-year-old boy from East Lothian has raised £10,000 for an Edinburgh hospital by drawing picture requests in return for donations.
Jack Henderson, from Prestonpans, has received 1,800 e-mails in two weeks since he set up Jack Draws Anything with the help of his father Ed.
Jack has received 600 commissions with donations going to the Royal Hospital for Sick Kids in Edinburgh.
Jack's little brother Noah regularly receives treatment at the hospital.
Now the family have decided they will not take any more requests. Jack has completed a tenth of the pictures requested.
The family initially set a target of £100, thinking they would get donations from family and friends.
Worldwide requests
However, Jack was flooded with requests from 115 countries around the world.
The youngster has been asked by some of his thousands of fans to draw Mr Potato Head riding a purple elephant eating banana Ice cream on a see-saw with a gorilla, a picture of himself drawing a picture to a banana on a skateboard.
He has even been asked to design a cover for marketing magazine The Drum and name a new baby.
Donations have ranged from £2 from a pensioner to £100 from companies wanting their logos produced.
Cats and dinosaurs have been the most popular requests and he has gone through four sets of pens and two sets of crayons.
'Absolutely phenomenal'
Rose Henderson, Jack's mother, said: "The past fortnight has been absolutely phenomenal.
"Jack has worked very hard and we really can't believe how this idea to raise £100 has completely taken off."
Jack said: "I am really happy to have made lots and lots of money for the hospital. I love drawing and I hope people like the funny pictures."
Maureen Harrison, chief executive of The Sick Kids Friends Foundation, said: "Everyone at the Sick Kids Friends Foundation is so grateful to Jack and all the Henderson family for this wonderful innovative way of helping the Sick Kids Friends Foundation.
"It's a fundraising masterpiece, devised by a little boy with a big heart supported by his truly remarkable parents and little brothers.
"It has inspired so many people to make donations that will be used to help make the sick kids even better.
"We can't thank Jack and his family enough for helping the Sick Kids Friends Foundation."