Artist Frank To in medieval plague doctors exhibition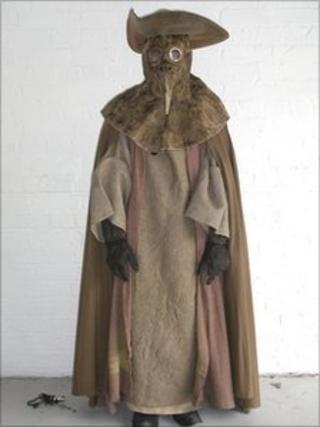 Scots artist Frank To has opened a new exhibition in Edinburgh of paintings inspired by medieval plague doctors.
The strange costumed figures, who wore long pointed masks, would have been a familiar, but unwelcome, sight on the streets of Scotland in the middle ages.
As part of the show, he will be dressing up as a plague doctor in public places.
The Human Condition, featuring 22 paintings at the Leith Gallery, finishes on 30 April.
A plague doctor was a special medical physician of the Middle Ages who saw people who had the bubonic plague.
The beak they had was a filter for what they believed to be bad, infected air.
Mr To said: "I've always been fascinated with the 1600s and 1700s, when science was starting to emerge but alchemy was still prevalent and the plague doctors were alchemists as well as physicians.
"I first came across an image of the plague doctors three years ago and this fascinated me and prompted me to research the subject extensively.
"Although detailed information was hard to come by, I did uncover clear historical evidence of the existence of two plague doctors in Edinburgh, which suffered from the plague in the 1600s.
"One of the worst hit areas in the capital was Mary King's Close, on the Royal Mile, in the oldest part of the city, while it is thought that the plague virus, which was spread throughout the city by fleas carried by rats, originated from ships at Leith Docks.
"It is therefore entirely fitting that this exhibition is shown at The Leith Gallery."
Jan Morrison, owner of The Leith Gallery, said: "This new exhibition shows that Frank is continuing to go from strength to strength with his work.
"He is constantly pushing the boundaries in his paintings with new and exciting ideas.
"That's what makes Frank's work so vigorous and intriguing."
Among Mr To's most famous collectors are actor Sir Patrick Stewart and global firm Deloitte.