Man jailed over Pope visit Edinburgh Airport bomb hoax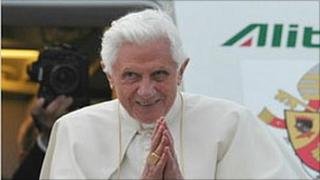 A West Lothian man who admitted trying to disrupt the Pope's visit to Scotland by claiming there was a bomb at Edinburgh Airport has been jailed.
Kenneth Ross, 53, was given a 162-day sentence for the hoax call to police hours before the pontiff was to land for his visit on 16 September 2010.
The threat was taken seriously and security was tightened until it was established the call was a prank.
Ross, from Blackridge, was sentenced at Livingston Sheriff Court.
He admitted committing a breach of the peace by making the call with the intent of deceiving the police into believing that a bomb or other thing was likely to explode or ignite at the airport.
'Difficult to understand'
Lothian and Borders Police traced the call to the City Link parcels depot in Livingston, West Lothian, where Ross then worked.
He was identified as being the caller and detained.
Sheriff Douglas Kinloch jailed Ross for about five-and-a-half months.
He told the accused: "It's difficult to understand why you decided to phone the police.
"But you must have known and perhaps even intended that Edinburgh Airport would be evacuated.
"This would have caused huge disruption for such a high profile event not to mention widespread inconvenience for thousands of ordinary airline passengers.
"Bomb hoaxes of this nature must be dealt with seriously by the courts and the fact that no disruption was caused is of little consequence.
"Despite the fact that you're 53 years old and almost a first offender I've come to the conclusion that no other sentence other than imprisonment can be imposed."