Edinburgh Zoo chief executive Gary Wilson suspended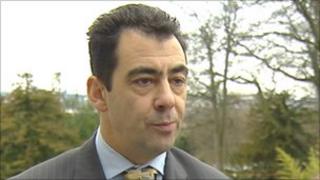 Edinburgh Zoo has suspended its acting chief executive while it investigates allegations made against him.
The move came after anonymous allegations were made against Gary Wilson, who is also the zoo's chief operating officer.
A zoo spokeswoman would not confirm the nature of the claims, but said they were treating them "extremely seriously".
She also said that the police were not involved in the case.
A spokeswoman for the zoo said that three other members of senior management were now running the attraction.
She said: "We regret to confirm that anonymous allegations have been made against a senior member of the Royal Zoological Society of Scotland staff.
"We are treating this extremely seriously and both internal and independent investigations are under way."