Hillend dry ski slope in Midlothian saved from closure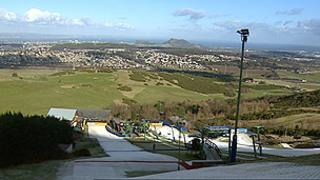 Almost £1m of funding has secured the future of Britain's longest dry ski slope, it has been announced.
The Midlothian Snowsports Centre was threatened with closure last year, after Midlothian Council said it could no longer afford to fund the centre.
The council has now said funding from Sportscotland and the Scottish government will secure the centre.
In February Sportscotland pledged to give £533,000, while the Scottish government agreed to £400,000.
Saving the centre, also known as the Hillend ski slope, has been the focus of an internet campaign, supported by more than 27,000 people.
Midlothian Council has now discussed long-term plans for the centre, which could include a new hotel or accommodation complex.
Projects include an extension of the nursery slopes with the installation of a "magic carpet", a moving walkway to help beginners learn to ski and snowboard.
It is hoped the money will also fund a new sledging run and larger areas for intermediate skiers where the slopes are less challenging.
The visitor centre is also to be refurbished.
The council introduced a package of efficiency measures, including increasing ticket prices, last year.
About 30 Olympians, including Alain Baxter and Finlay Mickel, have trained on its artificial slopes over the years.