Forth Ports backs £745m takeover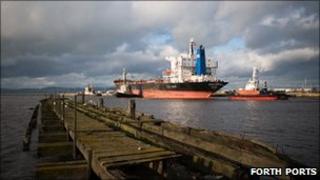 Directors at Edinburgh firm Forth Ports have agreed to a sale of the firm to a private equity investment fund based in London, valuing it at £745m.
Forth Ports owns docks and development property at Leith, Grangemouth, Dundee and Tilbury near London.
The agreement between Forth Ports and Otter Ports, a subsidiary of Arcus European Infrastructure Fund, is on the basis of £16.30 per share.
Arcus has pledged to keep Forth Ports' headquarters in Scotland.
London Olympics
Since privatisation in 1991, Forth Ports has been built up to become one of Scotland's largest stock-market-listed companies.
In Fife, it owns sites at Rosyth, Methil, Burntisland and Kirkcaldy.
In its annual results published on Tuesday, Forth Ports reported profits before tax up by 20% during 2010, to £56m.
Its property portfolio, which was substantially cut in value with the downturn, increased from £108m to £115m.
The company has been boosted by the use of Tilbury by the London Olympics organisers, which have a 500,000 sq ft warehouse at the docks.
It also has permission for a biomass plant there, and is applying for such plants also at Leith and Dundee, while wanting to boost facilities at the same sites for servicing offshore renewable power.
David Richardson, chairman of Forth Ports, said: "The Arcus offer gives Forth Ports shareholders the opportunity to realise their investment for cash at a fair price.
"It is also pleasing that this successful Scottish company will continue to be run from Scotland."