Queen's portrait unveiled at Scottish Parliament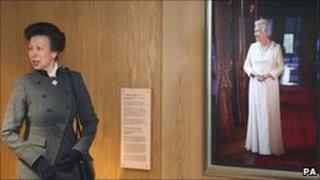 A photographic portrait of the Queen wearing a white gown has been unveiled at the Scottish Parliament.
The image was taken by Shaun Murawski, 24, who received the commission as part of a competition to mark the 10th anniversary of the Scottish Parliament.
The Princess Royal unveiled the portrait during a ceremony in the building's main hall.
Mr Murawski said: "I still feel hugely grateful to be given such an opportunity at my age."
He added: "For me the portrait captures what a moment in Her Majesty's company feels like.
"She is an extraordinary human being in all her benevolence and warmth."
The picture also shows the Queen wearing a diamond thistle brooch, which had belonged to Queen Mary, while she looks to her right.
It was taken in the Palace of Holyroodhouse's throne room in July 2010.
Mr Murawski, who studied at Paisley's Reid Kerr College, described the honour of taking the Queen's portrait as "surreal" when it was announced he had been chosen from a shortlist of five candidates last year.
Among those on the panel was the renowned US-based photographer Harry Benson, who counts several presidents and the Beatles among his subjects.
Mr Benson, from Glasgow, said: "What a unique opportunity and privilege and Shaun rose to the occasion. I am honoured to be associated with the endeavour."
Scottish Parliament Presiding Officer Alex Fergusson said: "The portrait will hang in the main public hall, where visitors to the parliament will be able to come in and view it for years to come."