Edinburgh tram talks reach 'mutual understanding'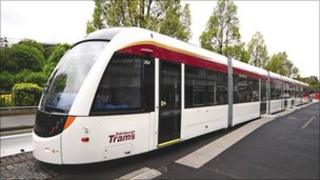 Both sides in the Edinburgh tram dispute have reached a "mutual understanding" of the key issues holding up the project.
Talks to end the stalemate on the scheme have finished with an agreement to meet again in the coming weeks.
All the groups involved in delivering the £545m trams system had been meeting near Glasgow since last week.
A joint statement said they are now firming up the framework for their future working arrangements.
It follows a contractual dispute between the tram company Tie and contractors Bilfinger Berger, which has pushed the project over budget and behind schedule.
The joint statement reads: "City of Edinburgh Council, Tie and the consortium members together with Transport Scotland have had a very constructive engagement and have established a mutual understanding of the key issues that have been impeding the progress of the Edinburgh Tram project.
"The parties to the contract are working together to firm up the framework for our future working arrangements and the successful delivery of the project."
BBC Scotland transport correspondent David Miller said: "It isn't being seen as a breakthrough and work isn't expected to resume on the on-street sections of the project any time soon.
"But it is clear that both sides in the dispute are working hard to try and find some sort of way through and deliver trams for Edinburgh."
It is hoped the route will be finished by the end of 2013.