Lorry freed from Edinburgh rail bridge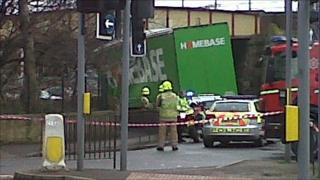 A lorry stuck under a bridge in Edinburgh which brought traffic "chaos" to the area has now been freed.
Firefighters were called to Old Dalkeith Road after the articulated lorry became wedged under the rail bridge just after 1400 GMT.
Arielle Schnepp, 42, from Edinburgh, said the container had been unable to fit and had twisted from the Homebase driver's cabin.
There were no injuries during the incident.
Mrs Schnepp told the BBC Scotland news website earlier: "I was picking up my daughter from nursery when I saw all the fire engines and police cars.
"It is completely stuck and twisted and causing traffic chaos.
"I saw at least 10 cars driving up the wrong way on Cameron House Avenue, which is a one way street, which really concerned me.
"There are lots of buses being diverted and a lot of people getting off them, it's chaos."
The lorry was removed at about 1545 GMT.