Otter cub living in Edinburgh river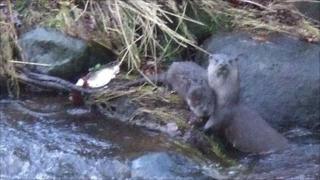 An otter and her baby photographed on an Edinburgh river in the heart of an urban area has been described as "incredible" by conservationists.
Experts believe it was three months old when the picture was taken in January on the Water of Leith by an ecologist.
The Water of Leith Conservation Trust said spotting a large wild animal thriving in a city was a "great" indicator the river was "very healthy".
The otter population rapidly declined in the 1960s, mainly due to pollution.
'Healthy river'
Charlotte Neary, Water of Leith Conservation Trust community and volunteers officer, said the recording was "very exciting".
She told the BBC Scotland news website: "Everyone in the city should be immensely proud that there is an otter and her cub living in their city, it is incredible.
"To have a large wild mammal, which had just about become extinct until the 70s, thriving in an urban river in the capital city shows the river is very healthy.
"It is only in the last five years that we have had a resident female on the river and the last time I saw an otter cub on the river was three years ago.
"They can travel up to 30 miles a night so it will be using the whole stretch of river."
The lutra lutra is the only species of otter seen in Europe. It is a solitary animal and can live in fresh water or in the sea.
Conservationists want to keep the exact spot where the baby was spotted a secret to protect it from large crowds flocking to catch a glimpse.