Addiewell private jail assaults 'too high'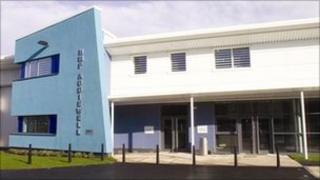 A report by the chief inspector of prisons has expressed concern about the level of assaults on staff at Addiewell HMP - Scotland's newest prison.
Brigadier Hugh Monro said there were also serious issues with healthcare at the privately-run jail in West Lothian.
In his first inspection of the prison, he said there had been 49 minor incidents of prisoner-on-staff violence in the year to October 2010.
However, he said overall the prison was "impressive" with inmates treated well.
The number of minor prisoner-on-staff assaults at the jail compares with just 14 minor assaults in Edinburgh, seven in Kilmarnock and five in Perth, all of which perform a similar function and are a similar size.
Brigadier Monro, Her Majesty's Chief Inspector of Prisons for Scotland, recommended the prison examined the reasons for the high number of assaults on staff by prisoners, which included two classed as serious.
He said: "Despite staff feeling safe and treating prisoners well, the level of violence in the prison is high when compared with prisons of equivalent size and function.
"Of particular concern is the number of minor staff assaults. The reasons for the high number of assaults should be examined and I will continue to monitor this whole area."
He said that overall the prison was "impressive" with conditions good and prisoners treated well by staff.
However, he said he had "serious concerns" about provision of healthcare, which the report said was basic and not delivered to the same standard as in the community.
Brigadier Monro said that healthcare record-keeping was "almost chaotic" with paperwork inappropriately filed.
He said there were long waiting lists to see a doctor, and recommended that an infection control policy be introduced as a matter of urgency as there was currently no policy.
Matter of urgency
The report said: "Given the serious concerns relating to the provision of healthcare the inspectorate intends to re-inspect this area next year to ensure that suitable standards have been achieved."
The document said there was good access to learning, skills and employability opportunities for prisoners and that every effort was made to maintain contact between prisoners and their families.
It highlighted that good links had been developed with community-based organisations with a view to helping prisoners reintegrate into the community and reduce the risk of reoffending.
The report, on an inspection carried out in late November 2010, also praised searching procedures and continuous efforts to deter and defeat smuggling.
Designed to hold 700 prisoners, the prison opened in December 2008 and is run by private firm, Sodexo Justice Services.