Riggi pair were together for 17 years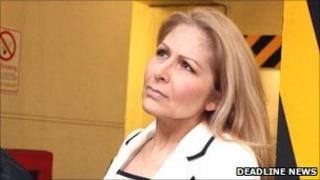 Theresa Macrena Butimore married Pasquale Riggi on 30 September 1989.
They lived in California, North America, where Riggi was brought up, but in 1990 they relocated to Colorado due to Mr Riggi's job as an engineer with Shell.
In 1997 they moved again, for Mr Riggi's job, to Lowestoft in England where they lived for eight years.
It was there they "enjoyed a lifestyle with considerable material wealth and travel", according to court reports.
Apart from a brief period working in a video business Riggi did not work outside the home during the marriage.
Before the marriage she had hoped to become a professional violinist/singer but an accident in her late teens ended those plans.
Despite the relationship deteriorating they continued to live together, and Riggi embarked on IVF treatment.
On 17 December 2001, Riggi gave birth to Augustino, who was known as Austin, and Gianluca, who was known as Luke.
They were non-identical twins and born as a result of the IVF.
After their births, Riggi, was "very possessive with the twins and would accept no help or visits", according to court reports.
At the end of 2003, Riggi had a previously frozen embryo implanted, which resulted in the birth of Cecilia on 9 August 2004.
In June 2004 the family moved to the Netherlands.
They remained there until the end of July when they returned to England as Riggi was "dissatisfied" with the level of Dutch antenatal care.
Several more attempts at IVF were unsuccessful which Riggi blamed on Mr Riggi because he had "stressed and upset her", according to court reports.
In October/November 2006 the pair separated with Mr Riggi moving to Aberdeen while Riggi lived back in the Netherlands.
In February 2007 Riggi and the children moved to Aberdeen so Mr Riggi could have contact with the children.
In 2009 the relationship deteriorated further with Riggi attempting to stop Mr Riggi from seeing their children.
When the children were allowed to visit Mr Riggi in 2010 they were wearing locators and each had mobile phones.
The pair also disagreed on Riggi's decision to home school the children with Mr Riggi wanting them to attend the local school.
Dr Brenda Robson, an independent chartered child psychologist, said the children "had little or no peer contact and who perceived school and the outside world as frightening, threatening unsafe places".
On 20 July 2010 Riggi and the children were reported missing by Mr Riggi.
On 4 August 2010 all three children were found stabbed to death in Edinburgh.