Memories sought of Yuri Gagarin's way into space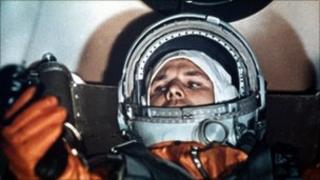 When Soviet cosmonaut Yuri Gagarin returned to Earth after his pioneering space flight five decades ago, he undertook a world tour in which he remarked on the "smiling faces" greeting him.
Among those smiling faces was an 11-year-old Glasgow schoolboy, Robin McKie.
In the summer of 1961, he made a special trip to Earls Court in London with his mother to meet Major Gagarin - the first man in space.
This April will be the 50th anniversary of the flight and scientists are marking the occasion by launching an appeal for memories from anyone who met the Soviet during his visit to the UK.
Maj Gagarin became an instant celebrity during his globe-trotting tour, which had been engineered to trumpet the USSR's achievement in beating America into manned space flight.
The trip took him to Manchester and to London where, during a news conference, he expressed gratitude for the wonderful welcome he had received.
Young self-confessed "space-nut" Robin was delighted when his mother said she would be taking him to the Soviet trade fair where Major Gagarin was to visit.
"All the science fiction stories I'd been reading were now true, and there was a man in space," said Robin.
The major's space flight left its mark on the Scotsman's life.
He's now science editor at the Observer newspaper.
Robin insists: "I'm not saying I wouldn't have been a science writer if I hadn't gone [to see Gagarin]. But it really reinforced it. And I am eternally grateful to my mother, that she gave me that opportunity."
The trade fair was full of life size models of Soviet space rockets and satellites, and they were what really excited the schoolboy.
Robin continues to have a vivid memory of Gagarin arriving at the exhibition.
He said: "The thing that struck me really was the smile. He had the most beautiful smile. It was just hypnotic.
"We weren't quite close enough to touch him. He walked past us at some speed.
"He waved at - not me, but in my general direction. Therefore, in my memory he waved at me. And I waved very excitedly back.
"I was absolutely - over the moon is a stupid phrase - but, that really was absolutely fantastic."
Gagarin's tour did not bring him to Scotland, but there is a corner of Fife that marks his triumph.
The Scottish Special Housing Association was building a new scheme at Lumphinans, a former mining village on the outskirts of Cowdenbeath.
And in December 1961 local councillors decided that one of the roads should be called Gagarin Way.
Not everyone who lives there now is very clear about how, or why, the street got its name.
But one resident says that the area used to be known as "Little Moscow".
She suspects that the name might have been chosen to celebrate the USSR's achievement.
And indeed at Dunfermline library the local history librarian, Janice Erskine, confirms that part of the kingdom of Fife had a very particular political history, linked to the local mining industry.
She says that though their union had affiliated to the Labour Party miners were frustrated that the party wasn't left-wing enough.
The area became one of the first in Britain to return a communist MP to Westminster.
It was a tradition that lived on, with communists elected to the council.
Looking through the archive, Janice Erskine says it is pretty clear that it was one of them who suggested the name for the new road.