Man admits Pope Edinburgh Airport bomb hoax call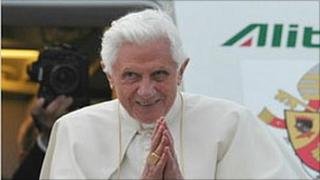 A West Lothian man has admitted trying to disrupt the Pope's visit to Scotland by claiming there was a bomb at Edinburgh Airport.
Kenneth Ross, 52, made the hoax call to Lothian and Borders Police just hours before the pontiff was due to land for his visit on 16 September 2010.
The threat was taken seriously and security was tightened until it was established the call was a prank.
At Livingston Sheriff Court sentence was deferred until next month.
Ross admitted committing a breach of the peace by making the call with the intent of deceiving the police into believing that a bomb or other thing was likely to explode or ignite at the airport.
Lothian and Borders Police traced the call to the City Link parcels depot in Livingston, West Lothian, where Ross then worked.
He was identified as being the caller and detained.
Paul Beaton, prosecuting, said Ross had one previous conviction, which was admitted.
Sheriff Martin Edington told Ross: "In view of the nature of this offence I'm going to defer sentence for preparation of a social enquiry report, community service reports and a restriction of liberty order assessment."