Flags, songs and cheers greet Prince William and Kate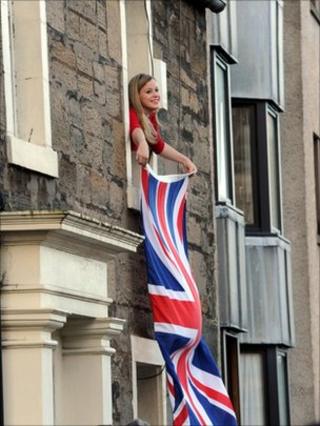 The excitement was palpable in the huge crowd waiting to catch a glimpse of Prince William and his wife-to-be Kate Middleton on their first official engagement in Scotland.
Thousands flocked to welcome the royal couple as they returned to St Andrews University, where they studied, to launch its 600th anniversary celebrations.
The crowds lined the long narrow North Street, outside St Salvator's Quadrangle, as the sun came out.
Some had braved the early morning rain to be first in line, with people starting to arrive from 0700 GMT.
Keay Black, from Pittenweem, said: "I'm here because I'm a Royalist.
"Kate and William are such a happy story - I think they are lovely.
"It's so romantic how they met, it's like a big fairytale."
As the couple began their two-hour visit, a choir could be heard from the quadrangle, singing the St Andrews University song Gaudeamus.
A hush fell over the crowd as Prince William began his speech, just before 1100 GMT, which was transmitted over loudspeakers to the well-wishers waiting in the street.
There was a huge roar from the crowd as the prince described St Andrews University as the best in world, and an 'Ahhh' when he said the couple's return felt like "coming home".
The crowd broke into applause during the fly-past, just before noon.
And there was a welcoming cheer as the royal pair emerged from the quadrangle. Thousands of cameras were held in the air in a bid to capture the best shots.
Well-wishers surged forward as Miss Middleton, who was wearing a red two-piece suit and black accessories, greeted the crowd.
People were hanging out of nearby windows while others tried to clamber onto fencing to get a better view.
There were some hysterical screams as the couple spoke to members of the crowd and shrieks as the prince shook their hands.
The royal couple, who are to marry in London on 29 April, greeted members of the public all the way along the crowd until they left in their Landrover at 1245 GMT.
Some well-wishers could be heard saying Prince William touched them, while others excitedly relayed to their friends exactly what he had said to them.
Inez Gordon, a student from Germany, told the BBC: "He was very charming, he shook my hand and talked about when he was a student and would fall asleep in his lectures.
"Kate seemed very overwhelmed and said 'oh my gosh, there are so many people' as she walked towards us."
Spectators said it had been well worth the wait. Others said the crowd had been been surprisingly excitable, with many instances of pushing and shoving by people trying to gain a better view.
It was quite a different scene for Prince William, who had enjoyed relative privacy when he lived and studied in the east coast town, and once said he could "pop to the supermarket and buy some asparagus" without attracting too much attention.