Murder charge mother Theresa Riggi weeps in court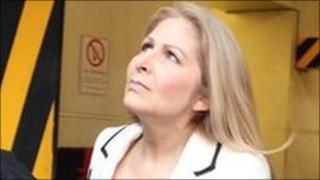 A mother accused of murdering her three young children wept as she appeared in a public court for the first time.
Theresa Riggi allegedly killed eight-year-old twins Austin and Gianluca and their five-year-old sister Cecilia at their Edinburgh home in 2010.
The 47-year-old is alleged to have repeatedly stabbed the children.
She appeared at the High Court in Edinburgh for a preliminary hearing. The case was continued without plea until 7 March.
Lord Kinclaven told Mrs Riggi she would continue to be remanded in custody.
The children were found dead in a flat in Slateford Road on 4 August.
They had moved to the city from Skene in Aberdeenshire, following the break up of Mrs Riggi's marriage to the childrens' father.
The American faces three charges of murder and another of culpably and recklessly causing a gas explosion.
Mrs Riggi is alleged to have removed a gas hob from its fixings and undone screws from the burner valves, allowing gas to escape.
It is claimed she made sure the windows and doors were locked and ignited the gas, causing it to explode.
The charge alleges that the fire which followed caused damage to the property, put people in danger and severely injured Mrs Riggi.