Edinburgh tram firm 'at risk of lacking skills'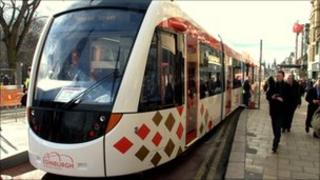 The company constructing Edinburgh's controversial tram line is at risk of lacking the skills and experience to finish the project, it has been warned.
The comments come in a report from watchdog Audit Scotland.
The £545m tram project has been subject to delays following a dispute between German contractors Bilfinger Berger and city-council owned developer Tie.
Tie said it was already aware of many issues raised in the report and had been in talks about the way forward.
Outgoing Tie chairman David Mackay branded parts of the project "hell on wheels" when he stepped down in November.
Efforts to broker a deal have been ongoing and it is still hoped that the new tram route will be finished by the end of 2013.
A new chairman for the project, which is behind schedule and over budget, was selected last week.
The report's authors said Edinburgh City Council and tram company Tie must build public confidence.
Richard Jeffrey, chief executive of Tie, said: "We were happy to co-operate with Audit Scotland in compiling the report which gives a fair and balanced summary of the issues currently facing the project.
"Audit Scotland are, quite rightly, asking questions regarding the spend profile, governance and plans for going forward.
"There is, however nothing that they have addressed which we are not already aware of and in fact many of the issues are already the subject of discussions between the council and Tie and have been openly discussed with the board.
"Unfortunately we are operating in an extremely unusual environment where we are unable to communicate much regarding the key issues facing the project publicly."
The Audit Scotland report, which has now been published after initially being leaked to the BBC, lays bare the challenges facing Tie as it battles to resolve the bitter dispute with its contractors.
It highlights that 99% of infrastructure construction works should have been completed by the end of December last year.
In reality, the figure was about 28%.
Audit Scotland also said that 74% of the available funding had been spent by the end of December 2010.
The report's authors said Edinburgh City Council and Tie must build public confidence and operate a more effective communications strategy.
They also said that urgent work was needed to convince the public that the team at Tie was up to the job, despite a series of high profile departures in recent months.
The report found: "A number of staff have left Tie in recent months and others may also leave creating a risk that it may lack the necessary skills and experience to complete the project."
Edinburgh City Council has been leading attempts to broker a deal between the tram construction firm and Bilfinger Berger.
Bilfinger Berger insist they are being asked to pay for work not covered by the initial contract.