Man jailed over kidnap and rape in Edinburgh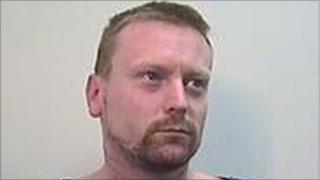 A man who admitted abducting and repeatedly raping a woman in Edinburgh before dumping her in the boot of his car has been jailed.
Ewan Mackay, 30, kidnapped the 27-year-old woman from Portobello on 5 December 2009, for eight hours.
He drove her to his home in Whitburn where she suffered serious injuries before she managed to escape.
He was given a lifelong restriction order and told he would serve at least 10 years in jail.
Mackay tried to rape his victim in Portobello before throttling her until she passed out. She woke up locked in the boot of his car.
Mackay then stopped the car and took her out of the boot. When she tried to escape, he chased after her and hit her on the head.
Mackay then bundled her back into the boot of his car and took her to his home in Whitburn, West Lothian.
Inside the house, he repeatedly assaulted her until his six-year-old son, who had been left alone in bed, was woken by the noise.
He then took her back out to his car where she managed to escape.
Judge Rita Rae told the High Court in Paisley that Mackay was a "high risk re-offender" and posed "potentially fatal harm" to women.
She said: "Ewan Mackay you have pleaded guilty to a most brutal and sadistic attack on a young woman who was unknown to you.
"The attack lasted several hours and the victim sustained life threatening, horrific injuries at your hands. One cannot even imagine the terror that this young woman must have suffered.
"To say that the attack was frightening for her is an understatement and it is no wonder that she believed that she was going to be killed."
'Violent predator'
Following the sentencing, Det Ch Insp Alan Crawford, of Lothian and Borders Police, said: "This was a particularly violent attack on a defenceless young woman.
"The injuries she sustained were horrific and certainly life threatening, and had she not received immediate medical care she may not have survived.
"It is down to her strong character and will to survive that she managed to escape from MacKay, and I pay tribute to her bravery.
"The sentence that has been passed reflects the gravity of the offences committed by MacKay, who is a violent predator who has shown no remorse for his actions."