Case for retaining RAF Leuchars put to ministers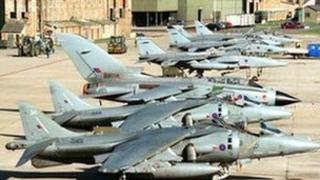 Defence Secretary Liam Fox has been sent a copy of a study detailing the impact the closure of RAF Leuchars would have on the local community.
Fife Council has constructed an economic and defence case for retaining the airbase.
No decisions have been reached but Leuchars is one of the bases facing closure under the defence review.
The council said it would not make the report public until ministers had studied it.
On Thursday, Fife community leaders and councillors met with First Minister Alex Salmond as part of the ongoing campaign to save Scotland's RAF bases.
Mr Salmond said RAF Leuchars was now one of only two front-line air bases left in Scotland out of the 22 RAF flying stations in the UK.
The UK Strategic Defence and Security Strategy, published in October 2010, raised concerns about the future of RAF Leuchars and Lossiemouth in Moray.
The MoD has now said a decision on these bases would be made by the summer.