New recycling services introduced for Edinburgh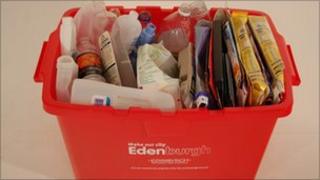 Battery and plastic bottle recycling is to be introduced as part of Edinburgh Council's waste strategy.
Plastic bottles will be picked up from red kerbside recycling boxes for the first time and batteries will be picked up from blue boxes.
Councillors said the move would make it easier for residents to help reduce the amount of batteries and plastic bottles ending up in landfill.
The strategy is aimed at increasing recycling in Edinburgh to 75% by 2020.
The council currently spends more than £7m per year on landfill tax.
Councillors said this was set to increase to £12m by 2014, if action is not taken to get more people to reduce, reuse and recycle.
'Reduce waste'
Councillor Robert Aldridge, environmental leader, added: "We are really stepping up our recycling activity in Edinburgh; with the introduction of a food waste pilot due to start soon and now householders will also be able to recycle batteries and plastic bottles at the kerbside.
"It is important as a city that we lower the amount of rubbish sent to landfill and the introduction of these new services will make it easier for residents to recycle even more materials."
The scheme is due to start on 31 January.