New boss for Edinburgh's trams project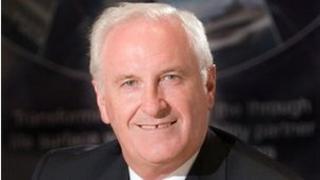 The controversial Edinburgh trams project is set to have a new chairman.
Currently the chairman of the Scottish Police Services Authority, Vic Emery was previously the managing director of various BAE Systems companies.
The three-year appointment will need to be formally approved at an Edinburgh Council meeting on 3 February.
The £545m tram project has been subject to delays following a dispute between the contractor and city-council owned developer Tie.
It is already behind schedule and over budget.
Outgoing chairman David Mackay branded parts of the project "hell on wheels" when he stepped down in November.
Efforts to broker a deal have been ongoing and it is still hoped that the new tram route will be finished by the end of 2013.
Mr Emery has been recommended by Edinburgh City Council's recruiting committee for the role of chairman, following interviews this week.
He said: "I have always taken a great deal of personal satisfaction from managing major projects.
"A position as significant as this, with such a high-profile initiative, will require all the experience I have gained in the public and private sectors over many years.
"It's an opportunity I very much relish."
Council Leader Jenny Dawe said: "Out of a very strong field, Vic was our unanimous choice.
"He has everything we need for the job - outstanding interpersonal, communication, negotiation and project management skills."
Richard Jeffrey, chief executive of Transport Initiatives Edinburgh (TIE/TEL), said: "We will be delighted to welcome Vic to the boards of both organisations.
"His wealth of experience from other boards will be a valuable addition as we move the project forward."
Several roads across the city have already been dug up and had tracks laid as part of the construction project to create a new 16km tram route.
Before the tram tracks can be laid, pipes, cables and wires have had to be moved from underneath the tram route.