Memorial Service held for Scottish miner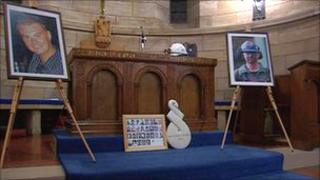 A memorial service for a Scot killed in a mining explosion in New Zealand last year has been held in St Andrews.
Malcolm Campbell, 25, was among 29 men who died when a series of blasts ripped through the Pike River Mine on the country's South Island in November.
On what would have been his 26th birthday, Mr Campbell's parents led the mourners at St Leonard's church in the Fife town.
His fiancee Amanda Shields flew in from New Zealand to attend the service.
Mr Campbell and fellow Scot, Peter Rodger, from Perth, died in the explosion which was New Zealand's worst mining disaster.
Their bodies, along with 27 other miners, are still entombed in the mine.
'Tragic event'
The mine was struck by a series of explosions and conditions are still considered too dangerous for a recovery attempt.
At the start of an inquest into the deaths, the chief coroner said the evidence suggested all the men either died during the first explosion or a very shortly afterwards.
Speaking at the service, Doug White, the operations manager at the Pike River Mine, who is also from Fife, said: "I'll never forget Malcolm and I'll do whatever I can to find the reason for the tragic event and make sure that Malcolm can eventually rest in peace."