Suzanne Pilley police release CCTV of man and woman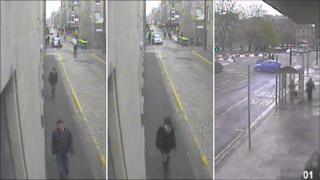 Police investigating the disappearance of Edinburgh woman Suzanne Pilley have released CCTV images of a man and a woman they want to speak to.
The 38-year-old bookkeeper disappeared on 4 May. Her former lover, David Gilroy, 47, has denied her murder.
Lothian and Borders Police said the images featured a man and woman walking separately in Edinburgh's Thistle Street on the day Ms Pilley vanished.
The force said they needed to determine if the pair could help their inquiry.
Ms Pilley was last seen arriving at her office in Thistle Street.
Despite repeated appeals for information and a massive search in the Argyll forest for clues regarding her fate, police have been unable to determine Ms Pilley's whereabouts.
'Additional information'
The CCTV pictures show a woman, thought to be aged between 18-30, walking near to where Ms Pilley worked.
She was wearing a black and white scarf round her neck, a black waist length jacket, short skirt, grey tights, black knee length boots and was carrying a bag over her right shoulder.
Police believe she entered Thistle Street from Hanover Street and may have been walking to a small blue car, possibly a VW Polo, which was driven off shortly after her arrival.
The other person they want to trace is a man, aged between 20-40, with short dark hair.
He was wearing a brown waist length jacket, blue jeans and carrying a small green plastic bag, possibly a Marks and Spencer carrier bag.
He walked along Thistle Street before entering Prospect House at 5 Thistle Street.
Det Ch Insp Gary Flannigan said: "Please take time to look carefully at these images. Do you recognise yourself or a friend?
"It is very important that we speak to these people in order to determine that they have no additional information to offer the inquiry."
Mr Gilroy has denied murdering Ms Pilley and has been released on bail.
His wife, Andrea Gilroy, has been charged by police with attempting to pervert the course of justice.