Forth Bridge cable vandals cause train chaos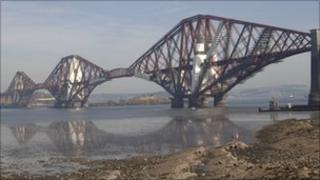 Police are hunting vandals who cut through a live cable on the Forth Bridge in an apparent attempt to steal its copper.
Trains on the East Coast line were severely disrupted for most of Tuesday after a 650-volt live signalling cable was severed at Inverkeithing in Fife.
British Transport Police said it was the latest in a series of metal thefts or attempted thefts on the rail network.
A total of 24 incidents have been reported in Scotland this year.
It is thought they are connected to the high price of copper.
Network Rail said the theft of a cable was an extremely dangerous crime and an attack on the whole community.