The Assembly Theatre Fringe venue to leave 30-year home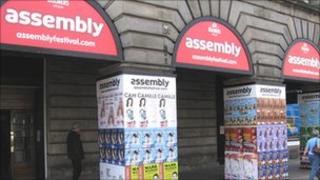 Edinburgh's biggest Fringe promoter is to move its main venue to the other side of the city centre.
The Assembly Theatre is to move from its home in George Street, where it has been for 30 years, to George Square.
It follows the George Street premises being shut down for an 18-month renovation.
William Burdett Coutts, Assembly director, said he was excited about George Square because it is a "very interesting environment".
Mr Burdett Coutts told the BBC Scotland news website although he would be putting a bid in to return to the George Street premises he said he hoped the Assembly Theatre would be in George Square "long term".
He said: "I love the Assembly Rooms so I would love to see it continue as an important part of the Fringe but it won't have the hub factor which you need. You need to have somewhere for people to hang out."
Cementing shift
He added that he would be running about five theatre spaces, including two Spiegeltents in George Square, with seating for 450 and 200 people.
He will also take over the George Square lecture theatre as a 480-seat space, along with two other rooms holding 200 people each.
His venue this summer will join the Underbelly, Gilded Balloon and the Pleasance in the area, cementing the shift of major venues over the years from the New Town.
The Assembly's venue at The Mound, Assembly Halls, will remain.
The Edinburgh City Council's refurbishment of The Assembly Rooms building in George Street, includes restoring its ballroom and music hall, with shops and a restaurant planned for other smaller spaces.