Pregnant women to get safer Down's Syndrome screening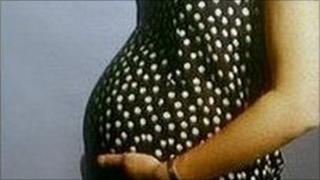 A safer, more accurate screening for Down's Syndrome is being offered to all expectant mothers in the Lothians.
Until now, the scan has only been available privately in Edinburgh and the Lothians, at a cost of about £250.
The NHS is offering the screening to all pregnant women in the area to reduce the number who have to undergo the more risky amniocentesis procedure.
Women will be offered the Nuchal Translucency screening when they are between 11 and 14 weeks pregnant.
The scan measures the fluid lying under the skin at the back of the baby's neck, which, coupled with blood tests, increases detection rates from 60% to 80%.
Health officials said it would half the number of referrals for the amniocentesis test, which carries a risk of miscarriage and involves a needle being inserted into the fluid around the baby.
Until now only pregnant women in part of Glasgow and in the Ayrshire and Arran health board area have been offered the Nuchal Translucency test for free.
Miscarriage risk
Over the next two months the Nuchal screen will be phased into every area in Scotland.
Dr Graham Mackenzie, NHS Lothian's consultant in public health, said: "Screening can involve difficult choices and we want to make sure that we offer women the best services possible.
"This combined screening is more accurate than the previous test and will reduce the need to offer women further diagnostic tests which increase the risk of miscarriage."
Pamela Hamilton, 31 from Edinburgh, is 14 weeks pregnant with her second child and has recently had the combined test.
Mrs Hamilton said: "Being pregnant is very exciting but there are worries.
"My husband and I chose to have this test so we could find out about the wellbeing of our baby and to prepare ourselves for all eventualities."