Sand to change ends in beach move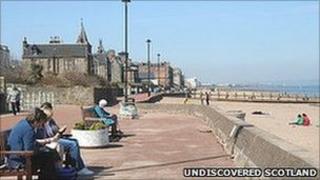 Up to 20,000 tonnes of sand is to be moved from one end of an Edinburgh beach to the other in a bid to prevent homes from being flooded.
Edinburgh City Council is to spend up to £60,000 moving the sand at Portobello Beach about a mile from the east side to the west.
It follows huge storms in March 2010, which moved thousands of tonnes of sand along to the east of the beach.
The council said the move would prevent Esplanade Terrace homes from flooding.
The council now plans to shift the sand, which was moved during the storms back again.
An Edinburgh City Council spokesman said: "Portobello beach forms a vital part of our coastal defences, cushioning the sea wall against the full force of the waves and, in turn, protecting the promenade and properties behind from serious damage.
"If we decide against taking action now and are hit by the severity of storm that battered our coastline last March, we could be left facing a repair bill totalling many times more than the cost of these works. It makes absolute financial sense."