Historic boxing fight for female chef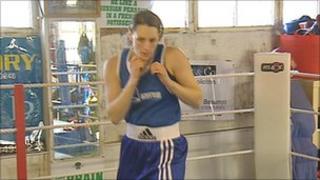 By day she is a chef but at night 26-year-old Louise Mitchell hangs up her whites and dons boxing gloves.
And on Saturday at noon Ms Mitchell, from East Lothian, will make history by being the first woman to step into the ring and box for Scotland.
She hopes the fight against Welsh amateur champion at 60kg, Charlene Jones, at Edinburgh's Meadowbank will be a step on the road to the 2012 Olympics.
She said she only took up the sport to get fit.
The former Beeslack High student, who trains five times a week, is also a professional chef at the Standard Life offices in Lothian Road.
The 5ft 8ins tall boxer told BBC Scotland: "I went in just to keep fit and my coach saw some potential in me and asked me if I wanted to fight.
"I got my first fight within a year, which I won, and that was a great step up for me to think about continuing."
So, how is Ms Mitchell preparing for the biggest fight of her life?
Raw steaks
She said: "I won't be eating any raw steaks but I will be eating plenty of protein and carbs.
"I'm getting weighed in tonight so I'm taking it easy with what I eat now and then I will have a nice meal tonight and good breakfast in the morning."
However, she has admitted to feeling a bit nervous ahead of the fight.
She said: "Using your brain is probably the best thing to do but its not always easiest especially when I'm going to have such a big home crowd so I think I will be a bit nervous.
"But hopefully when the fight starts I will forget about all that and just get on with it."
The Scotland v Wales, Bring Back Boxing Home International, will be at Meadowbank Stadium from Noon. The event also features 17-year-old Commonwealth Games silver medallist Josh Taylor, from Prestonpans.